The timeline for Jessie Misskelley's confession on June 3, 1993, is well-documented.
9:15-10:00 am: Sgt Allen finds Misskelley and brings him to the police station
10:00-11:00 am: First interrogation of Misskelley
11:00-11:30 am: Allen and Misskelley drive to find Misskelley's father for a polygraph permission form signature
11:30 am-12:30 pm: Polygraph exam of Misskelley (30 minutes of questioning)
12:40-2:30 pm: Second interrogation; Misskelley confesses around 2:20 pm
2:44-3:18 pm: Third interrogation; the main tape-recorded confession
3:45-5:05 pm: Series of short "clarification" interrogations (times are less clear here because Inspector Gitchell did not follow proper procedure by announcing the time when he turned the tape-recorder on and off)
Misskelley first confessed approximately 4½ hours after he arrived at the police station. That included 3-3½ hours of actual questioning spread over three sessions. Total time spent interrogating Misskelley that day was 4-4½ hours between 10:00 am and 5:05 pm.
4½ hours of questioning, with multiple breaks and no session lasting more than two hours, is far from excessive. No reasonable person can argue that Misskelley was subjected to an overlong interrogation.
Misskelley's defense team hired an expert in police interrogation techniques, Warren Holmes, to testify in support of their "false confession" theory at trial. During cross-examination by prosecutor Brent Davis, Holmes agreed that the interrogation time was reasonable.
Davis: Okay. And would it be accurate to say that when you train officers to conduct interrogations that you tell them that, at a minimum, in an important case, that you want them to go 4 hours, uninterrupted, with a suspect?

Holmes: True.

Davis: Okay. So, in this particular case, the time period that the officers were with the suspect doesn't pose a problem for you, does it?

Holmes: No.
Flashforward to 2000. Paradise Lost 2: Revelations included this title card: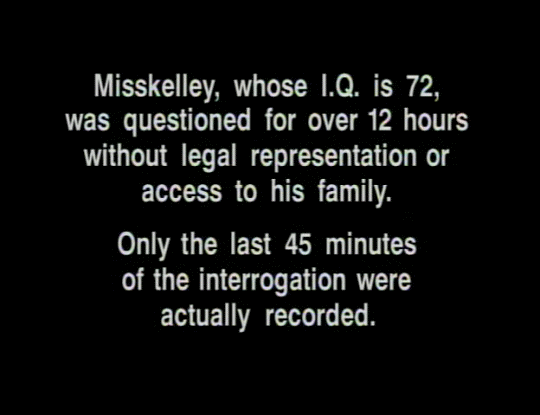 The second paragraph is factually correct and makes a good point: the WMPD should have started recording the interrogation much earlier. (They also should have recorded the May 10, 1993, interrogation of Damien Echols. Damn, I would love to hear those tapes.)
On the other hand, every claim in the first paragraph is false or misleading. For now let's concentrate on the "over 12 hours" part. No matter how you spin it, that claim is a flat-out lie. Joe Berlinger and Bruce Sinofsky had been closely following the case for seven years. They had access to police documents and trial transcripts. They knew the timeline for June 3, 1993, backward and forward. They simply chose to lie.
The "12-hour interrogation" meme caught on quickly, and it has remained a key element of the pro-WM3 supporter narrative ever since.
For example, the official WM3.org case introduction by Burk Sauls states, "Since very little of this 12 hour ordeal was recorded …." As of this writing (October 2011), Burk Sauls has been a movement leader for fifteen years. He knows full well there was no "12 hour ordeal".
Likewise, the official Arkansas Take Action case history claims, "After 12 hours of questioning, without counsel or parental consent, mentally disabled Jessie Misskelley repeated back to the police what he was told to say."
Many viewers and reviewers accepted the "questioned for over 12 hours" claim at face value. In his review of Paradise Lost 2, Roger Ebert wrote that Misskelley "was questioned by police for 12 hours without a parent or attorney present, and then was tape-recorded only long enough to recite a statement he later retracted." A Village Voice review by Jessica Winter similarly described "a confession, extracted over the course of a 12-hour interrogation, made by a 17-year-old with an IQ of 72." The Guardian's Duncan Campbell reported in 2005, "After 12 hours of questioning, Miskelly, who had an IQ of 72 and is clearly not fully aware of what is happening around him, made a confession, implicating the other two."
OK, those are film critics, soft journalists. Serious hard news journalists are bound to check their facts rather than unquestioningly repeat factoids they saw in a movie, right? Right?
A 2005 BBC News article about the case reported that Jessie Misskelley "was questioned for twelve hours without the presence of a lawyer or other adult. Only 20 minutes of this questioning were recorded and played to the court …."
A long 2006 LA CityBeat article by Annette Stark claimed, "The interrogation lasted 12 hours. Misskelley was never provided legal counsel or allowed to call his family. Only about the last hour of this was recorded …." This article was reprinted in other alt-weeklies.
The Times (London) upped the ante in a December 2007 article by John Harlow. "With public pressure growing, police questioned Echols's friend Jessie Misskelley, a retarded 17-year-old. During 14 hours of interrogation, unprotected by parent or lawyer, the boy confessed that he, Echols and a third friend, Jason Baldwin, had met the children in the woods by accident and then stabbed and raped them for satanic purposes."
CNN briefly showed some fact-checking chops in a December 2009 article by Stephanie Chen. "The prosecution relied on the confession of Misskelley, a 17-year-old with learning disabilities and an IQ of 70. He confessed after an untaped, three-hour interrogation by police without his parents or an attorney present."
However, CNN fixed the inadvertent accuracy in a September 2010 article by Deborah Feyerick and Stephanie Chen. "Neither his parents nor his attorney was present when [Misskelley] was questioned. His confession came during the last hour of a 12-hour police interrogation."
The WM3 episode of True Crime with Aphrodite Jones, first aired in May 2011, went with the long version. The host's interview with Jessie Misskelley's father included this exchange:
Jones: I believe they spent 14 hours with him?
Misskelley Sr: Yep.
Jones: Were you there?
Misskelley Sr: Nope.
In August 2011, after the WM3's surprise release, Campbell Robertson at the New York Times reported, "After a nearly 12-hour police interrogation, Mr. Misskelley confessed to the murders and implicated Mr. Echols and Mr. Baldwin." Robertson changed the figure from "over 12 hours" to "nearly 12-hour", which is bizarre if you think about it. I've tried to reverse-engineer the thinking behind that small change, to no avail.
A September 2011 Rolling Stone article by Patrick Doyle entitled "How Rockers Helped Free the West Memphis Three" claimed, "Misskelley, diagnosed as mentally disabled, confessed to the murders during a questionable 12-hour interrogation …."
There's a pattern here: movement leaders lie about some aspect of the case, movement groupies repeat the disinformation ad infinitum, and lazy and/or gullible journalists repeat the disinformation without fact-checking. The same pattern can be traced with other "facts" of the case (eg, Misskelley was mentally retarded, Misskelley recanted soon after confessing, police targeted Echols as a suspect because he wore black and listened to heavy metal music).
The professional journalists have no excuse for repeating the "12 hour interrogation" lie, since fact-checking this case is extraordinarily easy. Anyone can find out for themselves exactly how long Jessie Misskelley was interrogated on June 3, 1993, by spending a few minutes at the Callahan case archive.