After Jessie Misskelley confessed to West Memphis police on June 3, 1993, he continued telling his defense lawyers the same story for the next 16 weeks. In late September 1993, Misskelley switched gears, claimed that he was innocent and that his confession was false. After his conviction in February 1994, Misskelley returned to his original story and gave several more detailed confessions.
The transcript (PDF) of Misskelley's August 19, 1993, meeting with defense lawyer Dan Stidham — published this week at Callahan — offers rare direct evidence of Misskelley's mindset during this 16-week period following his confession and arrest. Part of the meeting covered the events of May 5, 1993, and Misskelley clearly had not recanted. He told Stidham the same story he told the police 11 weeks earlier.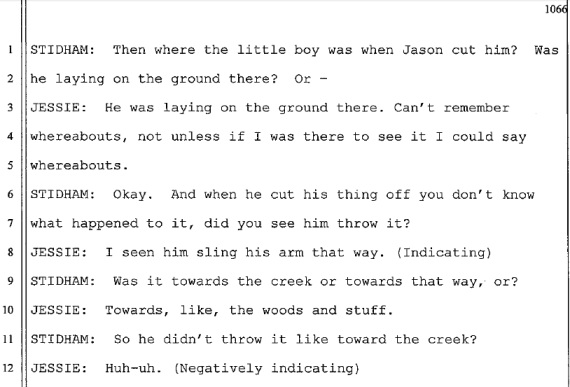 So how do WM3 supporters explain Misskelley's continued confessions to his defense lawyers for 16 weeks after his original confession?
One tactic is to pretend it never happened. That's how the Paradise Lost filmmakers handled it. That's how virtually every professional journalist has handled it too.
In Devil's Knot, Mara Leveritt acknowledged Misskelley's continued confession (pp 107-109) and quoted Dan Stidham's explanation from an interview many years later. Stidham framed Misskelley's continued confession in private meetings as "he'd try to recite what he'd told the police". From Stidham's account of Misskelley's eventual recantation:
And that's when I began to realize that he didn't understand what a lawyer was. He had no idea what a defense attorney was. He didn't understand the concept. To him, a lawyer was just a person who was part of the justice system. He thought we were detectives.
That's an extraordinary claim, with no evidence but Stidham's say-so, but Leveritt presented it as truth and pro-WM3 supporters have repeated it ever since. Jessie was so dumb, he thought his defense lawyers were working for the cops. That's the only reason he stuck to his story.
Was this really true? Misskelley had had several run-ins with the law before the murders. His father and three other relatives had been convicted for selling pot in the late 1980s, and his father did prison time. And Misskelley was not nearly as dumb as WM3 supporters make him out to be. It beggars belief that Misskelley "didn't understand what a lawyer was [and] had no idea what a defense attorney was", and WM3 supporters have never offered the slightest evidence for this claim.
The August 19, 1993, meeting transcript undermines this claim thoroughly.
Stidham made several references to "the police", things that various witnessed "told the police", etc, throughout the meeting. They walked through the events of June 3 and Misskelley's interaction with various WMPD officials that day. Misskelley referred to specific cops by name, or the cops in general as "they". There's no indication whatsoever that Misskelley didn't understand Stidham's role as defense lawyer or believed Stidham was working for the police.
Towards the end of the meeting, Stidham talked about his negotiations with the prosecutor. He explained to Misskelley the option of going to trial vs. taking a plea bargain. He outlined the different sentences Misskelley might face. Misskelley appeared to grasp the legal options, and Stidham's role in the process, perfectly well.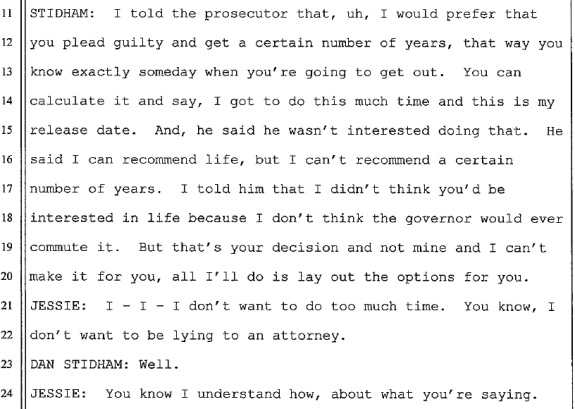 And toward the end of the meeting, Misskelley referred to Stidham as "an attorney", which would indicate that he understood what "an attorney" was.
After this meeting, Misskelley continued telling his defense lawyers he was guilty for another five weeks. The only explanation WM3 supporters have ever offered — Misskelley was so dumb, he thought his defense lawyers were cops, that's why he continued confessing — is thoroughly contradicted by the evidence.