In September 2009, three people — Deborah Moyer, Jamie Clark Ballard and Brandy Clark Williams — gave affidavits claiming to have seen Terry Hobbs with the three murder victims outside the Hobbs home at 6:30 PM on May 5, 1993. Jamie Clark was 13 at the time of the murders; Brandy Clark was 11 or 12; Deborah Moyer is their mother. They all lived at 1609 S. McAuley Street, four doors east of the Hobbs house (1601 S. McAuley Street).
If true, this would make Moyer and the Clark girls the last people to see the murdered boys alive. And if true, this sighting would lend great credence to the case against Terry Hobbs (stepfather of Steve Branch) as the real killer.
Here's what the three new witnesses declared in 2009 (links go to PDF files):
Approximately between 5:30 and 6:30 PM, I saw Stevie Branch, Michael Moore and Christopher Byers playing in my backyard. […] The boys were just playing and screwing around. Stevie was riding a bike. There was also a bayou and a ditch in the backyard. […] Stevie, Michael and Christopher were playing around the ditch. […]

At 6:30 PM on May 5, 1993, which was a Wednesday, my sister and I went out the front door of my house to go out to the car to meet the people who were picking us up to take us to Wednesday night youth group. As I came out into the front yard, I saw Stevie Branch, Michael Moore, and Christopher Byers come racing between my house and the house next door that was in the direction of the Hobbs' house. […] While I was out in the front yard in the evening of May 5, 1993, Terry Hobbs hollered at Stevie, Michael and Christopher to get back down to the Hobbs' house.
On May 5, 1993, around 6:30 PM, my sister Jamie and I were leaving our house to meet the youth group coordinators who were picking us up to drive us to our church youth group meeting. As we were walking down the driveway, I remember seeing Stevie Branch come out of our backyard, around the side of our house, riding his bicycle. Christopher Byers and Michael Moore were running behind Stevie, going in the same direction. […] As we were getting in the youth group coordinators' car, I remember seeing Stevie's dad standing in the driveway of his house, a few doors down, while Stevie's little sister was riding a three—wheeler in the driveway. Stevie's dad then yelled to the boys to "come back down" to his house, and the boys went in that direction toward him.
On May 5, 1993, approximately between 5:30 and 6:30 PM, I looked out a window in the back of my house and saw three little boys, including the blond boy that lived down the street, playing in my backyard. I knew these boys because I had seen them playing in my backyard before. My backyard backs up to a bayou and there is a ditch that runs along the bayou. […]

At approximately 6:30 PM on May 5, 1993, when I saw that my daughters' ride was out front, I walked out the front door with Jamie and Brandy to see them off and to say hello to the sponsors. I was going to then go around the corner of the house and tell the boys not to play in the backyard. As I walked out the front door, though, I saw the three boys who had been playing in my backyard, including the blond one who lived down the street, come through between my house and the house to the left of mine (to the left if you were walking out my front door). The blond one was on a bike and the other two were running behind him. At this same time, as I was in front of my house seeing the boys go by between the houses, I saw the man who lived down the street with the blond boy, whom I believed to be the blond boy's father, yelling for the three boys to get down to his house. He was walking up the sidewalk talking loud to the little blond boy and telling all the boys to get down to his house.
There are obvious reasons to be suspicious of the Ballard-Williams-Moyer affidavits. They waited 16+ years before telling anyone. Even then they didn't contact law enforcement, they contacted the defense, which had been running local billboards offering a six-figure reward for new information. Their memories are incredibly detailed for something that happened at a specific date and time 16 years earlier.
Ballard and Moyer both address the first issue in their affidavits. Why didn't they share this information with the police back in May 1993?
Jamie Clark Ballard: "Following the murders, I was aware that there was a search in West Memphis for the killer or killers. I also knew that the West Memphis Three were convicted of the murders. However, I was not aware until very recently that Terry Hobbs has repeatedly stated that he did not see Stevie, Michael, or Christopher at all on the evening of May 5, 1993."
Deborah Moyer: "I could never understand why no police officer ever came to interview me or my daughters. In fact, I never saw any police officers canvassing the neighborhood interviewing folks about the murders. Of course, had I known that I or my daughters had any information that was important to the investigation of the murders I would have gone to the police. However, I did not know that the fact that those little boys were in my backyard around 6:30 PM on May 5, 1993 was significant. I also did not know that the fact that I saw the father of the blond boy calling the kids that night to come down to his home was significant. If I had known that, or if I had known that my daughters had any important information, I would have contacted the West Memphis Police Department immediately and we would have told them what we knew."
These explanations stretch credulity. A neighbor's child was murdered; Jamie was close friends with another victim's brother; the children were last seen alive around 6:00-6:30 pm; the investigation, arrests and trials were headline news for ten months — and it never once occurred to them that their information was relevant?
Maybe Moyer never saw police in the neighborhood, but they were definitely there. Mr & Mrs Milton Morgan (1605 S. McAuley Street) lived in between the Moyer-Clark house and the Hobbs house. WMPD detective Stan Burch interviewed the Morgans and the Hobbs on May 12 about a young man named Bobby DeAngelo. That line of investigation led to the Morgan's son Christopher becoming a top suspect. Even if police never knocked on their door, Moyer and the Clark girls could have contacted police on their own. Hundreds of other people did.
The biggest problem with the Ballard-Williams-Moyer affidavits is that they contradict so many eyewitness reports from 1993. Investigators naturally attempted to track the locations and movements of the three victims before they disappeared on May 5. Here are the major witnesses:
John Mark Byers (interrogation 19 May 1993): "When I left the house at 5:30, I left Christopher under the carport with instructions to pick up paper under the carport and clean up the carport." When JMB arrived home again at 6:15, Christopher was gone.
Melissa Byers (testimony at Misskelley trial): Last saw Christopher "On our carport […] around five-thirty, quarter to six." Sometime later, before JMB arrived back home, "I went outside hollering for him and he was gone out of the yard."
Kim Williams (age 8; police interview 8 May 1993): "stated that between 5:30 and 6:00 PM on 5-5-93 she saw Steve and Michael going into Robin Hood into the ditch that goes to the Devil's Den area. She stated that she also saw their bicycles parked by the road near Goodwin. […] Kim stated that she never saw Christopher that day."
Debra O'Tinger (lived at 1309 Goodwin; talked to police multiple times, testified at both trials):
(undated police note) "Saw all 3 boys at approx 5:30 or 6:00 PM (5:45 PM) were riding in her yard. Told them not to ride in the yard. Last seen headed toward the trails."

(handwritten statement for police 30 June 1993): "On Wed May 5, 1993, around 5:30 pm Michael Moore, Steven Branch & Christopher Byers were in the front of my yard. Steve Branch rode the bike in my yard and was running by my small trees we (me – my husband) had just planted. I told the boys could they please get out of my yard and ride on the side walk cause my ground was wet. […] By then when we [Debra & husband] left at 6:00 pm they Christopher, Michael, Steven had went in the wooded area (dead in street). That was the last I saw of them." [[Note: "dead in street" probably = "dead end street".]]
Dana Moore (testimony at Misskelley trial):
Q: Later did you see him with somebody else besides Steve Branch?
A: Yes, sir. Chris Byers.
Q: Where did you see them at that time?
A: Going north on 14th Street.
Q: Were they walking or – –
A: They were riding their bikes.
Q: How many bikes were there?
A: There was two bikes.
Q: Who was on what bike?
A: Michael was on his. Chris was on Steve's, and Steve was on his.
Q: So Chris and Steve were on the same bicycle?
A: Yes, sir.
Q: How far down were they from where you were?
A: Approximately six houses.
Q: What time of the day was it?
A: Six o'clock.
Q: Did you see him any after that?
A: No, sir.
Bryan Woody (talked to John Mark Byers and Gary Gitchell on 5/6 afternoon before bodies were found; testified at E/B trial):
(undated police notes): "Subject stated that around 6:30 – 6:45 he observed 4 w/m with two bycycles going into the Robinhood area off of Goodwin. He stated his mother lives on Goodwin and he works at Radio World and that he remembers 1 of the boys to have blond hair in a spike because his little boy has the same hair style. He stated he grew up in the area + as a kid played in the Robin Hood area." [At E/B trial, Woody testified that this undated note referred to conversation he had with a police officer, possibly Gitchell, on May 6. Handwriting looks more like Mike Allen.]

(Report by Hester 28 May 1993): "On 5-5-93 at approx. 6:30 P.M. Bryan got off work from Don's Super Shine and was on his way to his mothers at 1823 Goodwin – went to Barton to Goodwin – turned on Goodwin by East Jr. High. At the dead end of Goodwin by N. 14th he observed 4 W/Ms – 1 was carrying a skate board and 2 bikes going into the dead end toward Robin Hood Hills. Just saw the backs of the boys but from the back one looked like Steven Branch because of the blond spiked hair. [After lunch with mom on 5/6,] he left and went to 14th + Barton and told John Mark Byers what he had seen. They asked if he would help them look – he went and got a 3 wheeler + helped search."
Bryan Woody gave police another statement in September 1993, then testified at the Echols/Baldwin trial in 1994.
In his 5/19/93 interrogation, John Mark Byers described his encounter with Bryan Woody:
That Thursday evening was probably like 6 … no it wasn't even that late. They were still searching. They hadn't found the boys yet. It was a little after lunch time. And I, this fellow talked to Gitchell. But it was a white guy, kind of chunky, heavy-set, had kind of shoulder length wavy hair and said when he had come home the night before 6:30, quarter 'til 7, something like that, that when he drove by there, he had seen 4 people and 2 bicycles. And I thought, you know, are you sure it was 4? He said yeah, it was 4. And that's when we were right there at my house and I think Gitchell pulled up and I went over and said, Gary there's a guy that saw 'em. And I think he went and talked to the guy right there. But during the day, the guy was on a like a 180 or a 250 red 3-wheeler helping us look through the day. Kind of heavy-set […] looked maybe to be, I'm going to say 22, 23. But he said he saw 4 people.
According to his subject description form, Bryan Woody was white, 20 years old, 5'8″, 205 pounds. He definitely fits Byers' description of the guy he talked to.
Here's a map to help sort out the various sightings. (B=Byers, M=Moore, H=Hobbs/Branch, C=Moyer/Clark, O=O'Tinger homes; W=location described by Woody.)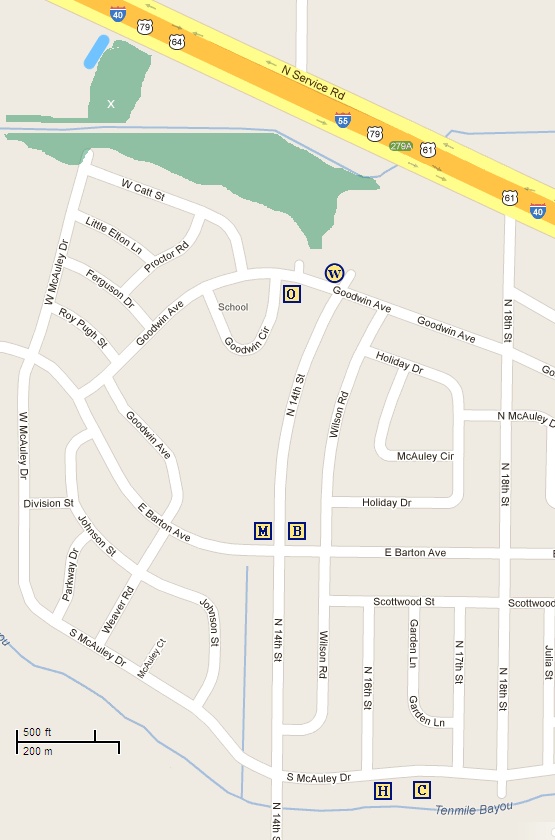 Ballard and Moyer both claim they saw the three murdered boys playing in their backyard between 5:30 and 6:30 PM. It's not impossible to make that claim jibe with the 5:30-6:00 PM sightings by Kim Williams, Debra O'Tinger, Melissa Byers and Dana Moore. These were energetic 8-year-olds on bicycles, after all.
But there's no possible way to make the Moyer-Clark sighting of the three boys in their driveway at 6:30 PM jibe with Bryan Woody's sighting of the three boys at Goodwin & N. 14th at 6:30-6:45 PM. If Ballard, Williams and Moyer recollect that evening correctly and honestly, then Bryan Woody was lying back in 1993. If Bryan Woody was telling the truth on May 6, 1993, then Ballard, Williams and Moyer are lying.
So the question really boils down to: Which witness is more believable? The guy who told the missing child's parent and the police what he saw on May 6, before the bodies were discovered? Or the people who waited 16 years to talk?
UPDATE: Billy Sinclair wrote a post about the same topic: The Three "Witnesses" Against Terry Hobbs.